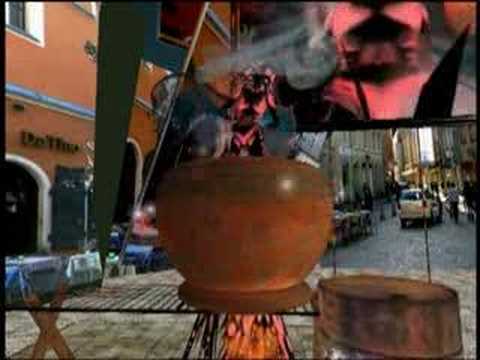 Video by Fau Ferdinand From "Exhibit A" group exhibition live performance, "All N00bs Are Sailors", at Notice Gallery, London (2006)
The HUMlab Yoshikaze Up-in-the-Air artist residency welcomes Fau Ferdinand (aka Yael Gilks) as its next Artist in Residence from 15 September to 30 November 2011, during which she will be exploring:
"The persona as a battle field of conflicting ideas and the avatar as a representation of these conflicts. Documentation of the learning process of external tools and the creation of a video art piece, being both sides of the camera."
The HUMlab Yoshikaze Up-in-the-Air artist residency is a project run by digital artist Sachiko Hayashi and virtual world manager Jim Barrett that invites established artists from around the globe to work in the Yoshikaze Up-in-the-Air studio on HUMlab's island in the virtual world of Second Life. The artist spends three months working with the virtual world both as a site and a medium. Past artists in residence have included Alan Sondhiem, Garrett Lynch, Selavy Oh and Katerina Karoussos.
I am very happy to have Fau working on the HUMlab Island and look forward to the exhibition of the results in early December.
You can follow the progress of the residency, as well as read and view the works from other residencies on the Yoshikazi blog.